Why Digital Marketing is Important in 2021: Top 7 Reasons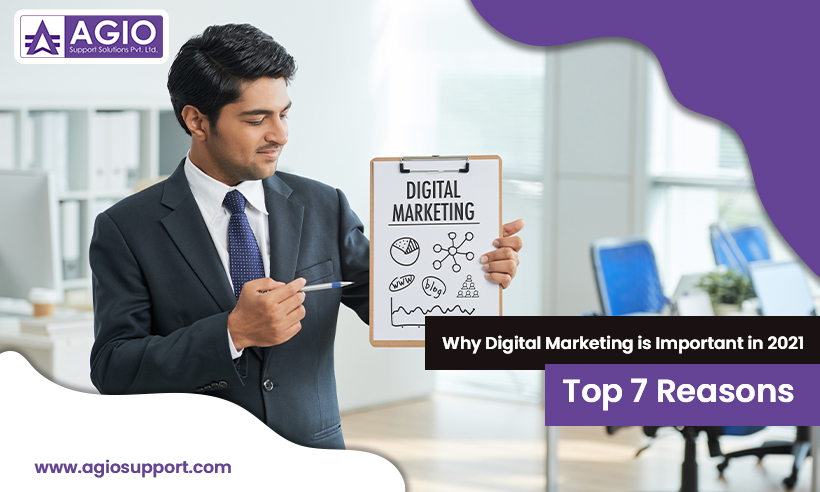 Digital marketing has become important for every business in 2021. Now, most business owners understand that for their business to succeed, it needs to have a well-established online presence also the importance of digital marketing.
Digital Marketing will allow you to reach more consumers and convince them to buy your business products. But if you want to do this effectively, then you need to take advantage of all kinds of resources that digital marketing has to offer.
When you are using the latest digital marketing techniques and technological advancements for enhancing the sales of your business, then it will have a better and wider reach among your potential customers.
Why Digital Marketing is Necessary- Top 7 Reasons
Affordability
You can choose from a large number of marketing methods to promote your business. But some of them can be very expensive and put a dent in your finances.
Whereas the importance of digital marketing is an affordable tool, by which you can promote your business. The price packages for digital marketing may differ, depending on your business requirements.
But in the end, it will still be cheaper than other forms of marketing methods, you may choose such as print marketing, Advertising, etc.
Accessibility Via Mobile
Nowadays, most people tend to surf the internet via their smartphones. In other words, when you fully utilize the power of digital marketing, then you will be able to reach many potential customers, which may even reside in a completely different country.
The different forms of digital marketing which are used to increase your business reach are remarketing ads, email and text marketing, and social media.
As more and more people use the internet, they tend to see ads that are tailored according to their shopping choices. You can use the power of digital marketing in the same way and reach people, who have never even heard about your business.
So when a smartphone is using an application, which has ads, then he may stumble upon an advertisement for your business. Thus providing your business with a better reach and better credibility also.
Flexibility 
Digital marketing comes in many shapes and forms including banner ads, email marketing, content marketing, and social media posts.
So you can digitally market your business in two ways, either by hiring a digital marketing agency or by doing the work yourself. Now it is usually advised that you hire a proficient digital marketing company fr your business.
As the experts at the company will ensure that your business has a widespread online presence along with a good amount of internet traffic. All of this will further lead to an increase in sales for your business.
Because more and more customers will be visiting your business website and making purchases. Though you must also make sure that your website is designed in a way that caters to your customers' needs.
Website designing is also an important part of digital marketing. And via the power of the latter, you can also host event campaigns on your website. So that users are consistently engaged with your website. 
This will provide your e-commerce website with a lower bounce rate.
Expansion
As coronavirus is wreaking havoc upon the world, so more and more people preferring to shop online, as it assures them a sense of safety.
Digital marketing allows you to reach these people directly and at the same time. You can also inform them about the core brand values of your company. 
When your e-commerce website is fully functioning then people from anywhere in the world. They world will be able to purchase products from your website. Though you must make sure that you provide them with the service of international shipping also.
This way your business will make a name for itself in the overseas market.
Interactivity
When you fully utilize the power of digital marketing, then you will be able to communicate with your customers directly via website comments, messages, reviews, and social media posts.
This will show your customers that you care about them and what they think about. They will feel respect and happy to be a respected customer of your company.
Digital marketing will also allow you to gain invaluable insights into your customers and their preference. This will you will be able to understand about what other kinds of products, your customers wish to purchase from you.
Thus interactivity is an important and intrinsic part of digital marketing. Though it must be utilized by you to it's full power.
Influencer Engagement
A large number of people follow one or another social media influencer. So that they can make an informed decision before purchasing any product online. 
Now via the importance of digital marketing, you can also engage with these social media influencers and talk about them for promoting your products. If you can win the trust of these influencers, they will be happy to promote your business.
This way your business will attain new customers and some of them may have never even heard about the online presence of your e-commerce website.
Content Marketing
The most important tool which is required while digital marketing is known as "Content Marketing". 
Quality content on your business website will keep the users engaged.
Also when you use any social media platform to promote your business, you will still require quality content. So that users feel an inclination towards purchasing your website.
To increase the online presence of your business, you can also start a blog section on your website. Where you can hire a content writer to write about different kinds of products you sell.
And the more quality content your blogs have, the more they will turn up in Google's search results.
About Post Author