Costliest Items Purchased With Cryptocurrency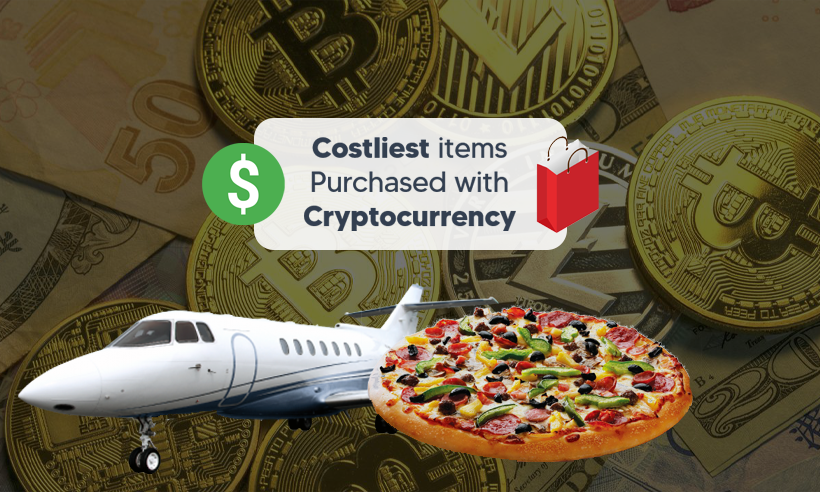 Cryptocurrency has generated greater interest among people from all over the world. They are keen to know about anything new happening in the cryptocurrency world. By following cryptocurrency news feed, you get to know all about the rise in cryptocurrency prices, consistent acceptance of emerging institutions, discussion on Bitcoin becoming digital gold, and various other updates about recent developments that are rapidly taking place in the crypto world. But have you ever thought about the costliest items purchased with cryptocurrency? If not, then today we are going to let you know all about it. So let's follow the blog below:
Pizza
You might find it a decade old news, but it becomes very relevant to mention it as one of the examples among the list of costliest items purchased with cryptocurrency.10 years back, a programmer purchased two pizzas at the cost of 10K BTC. During that time, the worth of 10K BTC was $30. However, with roll over time in years 2017-18, the worth of pizza came to $200 million. 
Chartered Jet
How would it feel travelling on your Jet? Naturally, it feels to be a dream come true. But this dream turned into reality when a member of the Bitcoin Foundation purchased a private from PrivateFly.com at 54.95 BTC in 2014. Now, it is indeed to have jealousy towards this man. Many people, even if being wealthy, cannot afford to buy a Jet so easily. Most of us make our heart content with enjoying a ride on a commercial aeroplane. So this is another example of costliest items purchased with cryptocurrency.
CryptoKitties
Another example of costliest items purchased with cryptocurrency is CryptoKitties. It is popular crypto collectable that lets you gather awesome digital cats featured with different characteristics. There were two major expensive sales of CryptoKitties. One was Founder Cat at 253 ETH, and the other was Dragon Cat at 600 ETH. During the time of sale, the worth of this digital cat was around 170K USD.
Canadian House
When it comes to comparison among the costliest items purchased with cryptocurrency, then it is the Canadian house, in Alberta, at the sale of 5,750 BTC having worth of around 400K CAD. However, the figure inflated to $115 million, later.
Yacht
Founded in 1983, Denison Yachting is a popular name in shipbuilding in Florida. Two years back, it began accepting payments in cryptocurrency. In an interview with CNBC, Bob Denison, the CEO of Denison, told that being a salesman is the onus to let shopping become an easy task. So it needs an effort to comply with the customer regarding payment in cryptocurrency. M90 Panacera, one of the newest models, was being sold by Denison for 12K ETH. 
Painting By Andy Warhol
Among the list of costliest items bought with cryptocurrency is a painting by Andy Warhol, with name '14 Small Electric Chairs'. The technology used for its selling was blockchain. the use of this digital ledger indicated owning of partial stake by investors for this painting. Maecenas, the organizer was keen to sell this masterpiece at 31.7% for $1.7 million. Buyers were given choice to make payment either through Ethereum or Bitcoin.
Conclusion
So these were some of those costliest items purchased with cryptocurrency, either through BTH or ETH. After reading all about these expensive items and the price at which they were being sold, defines the importance of cryptocurrencies for trading and for buying and selling commodities. In the current scenario, cryptocurrencies have become a major source of payment in many notable online stores, which we are familiar with. This shows that they are here to exist always, and can't be fade off so easily, despite criticism. Follow the latest cryptocurrency news to know recent updates about any digital currency, and buying and selling of any items with cryptocurrency.
Articles You May Read
About Post Author