Top Fastest Cryptocurrency Exchange in India 2022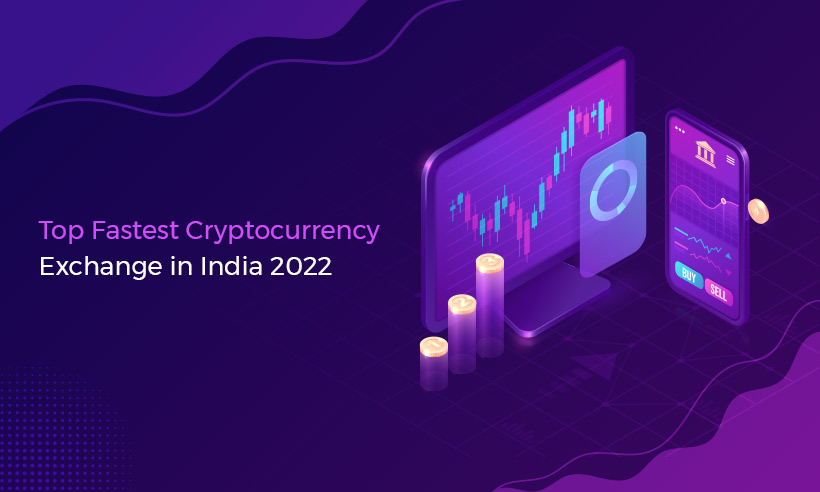 When the ongoing pandemic caused a global economic slowdown in 2020, the Indian economy enthusiastically welcomed cryptocurrency. Demand for digital financial assets is increasing in India today. Indians have begun to use cryptocurrency exchanges to invest in cryptocurrency. Millions of people registered their crypto trading accounts with several of India's top fastest cryptocurrency exchanges within a year.
To find one of the best cryptocurrency exchanges in India, compare them based on their benefits and drawbacks. One of the best crypto exchanges in India, for example, will have a robust security mechanism. Similarly, an exchange with low fees can be regarded as one of the best in the country.
Because of market volatility and risks, no single exchange can be considered the best. Investors in the Indian crypto community have yet to mature in the country's crypto markets. Let's take a look at some of the best cryptocurrency exchanges on which traders and investors can rely for investment advice.
What is Fastest Cryptocurrency Exchange?
A cryptocurrency exchange is an online trading platform that acts as a middleman between cryptocurrency buyers and sellers. These platforms allow cryptocurrency trading in exchange for digital and fiat currencies. 
These exchanges allow users to deposit money using direct bank transfer, net banking, or peer-to-peer, and charge a commission or fee for each transaction completed using their services.
List of Best Cryptocurrency Exchange in India (2022)
The following best crypto exchanges in India are emerging as the best crypto platforms in the world. Any of these crypto trading platforms for buying and selling digital assets will undoubtedly emerge as the top cryptocurrency exchanges in India by 2022.
WazirX
WazirX is one of India's fastest-growing cryptocurrency exchanges. The platform has over 1 million users and offers a lucrative opportunity for many investors by allowing them to trade/invest in over 100 crypto assets. The exchange is part of the Binance group (the world's largest crypto exchange), which is known for managing users' investments all over the world.
WazirX is best known for developing an efficient Peer-to-Peer (P2P) engine. It simplifies things for Indian traders by automatically converting crypto coin prices to Indian rupees (INR). The platform also includes Smart Token Fund, which is very useful for beginners. STF enables them to find skilled traders and manage their cryptocurrency portfolio.
In comparison to other crypto exchanges, the exchange also provides an intuitive interface on mobile and laptop devices, as well as a quick sign-up and verification process.
CoinSwitch Kuber
CoinSwitch Kuber is the Best Exchange for Crypto in India, with one of the best rates on Bitcoin trades. On CoinSwitch Kuber, it is simple to trade BTC instantly, and the KYC and AML verification procedures are also simple to follow. The CoinSwitch Kuber mobile app is extremely beneficial in bringing one of the best cryptocurrency trading platforms to Indian mobile devices. CoinSwitch Kuber is one of the top cryptocurrency exchanges in India, offering a streamlined trading interface to Indian traders.
The website does not disclose the transaction fee. The customer support team exclusively provides information on trading crypto fees via live chat. In these chats, the company has stated it does not charge a fee.
Krypto
This cryptocurrency exchange app has become extremely popular not only in India but also in over 150 other countries. Aside from the fast speed, what draws users' attention is the fact that Krypto has a simple user interface and flexibility.
Unocoin
This is a cryptocurrency exchange that claims to be India's first crypto asset and blockchain company. It now claims to have over a million investors. Unocoin enables investors to purchase and sell hundreds of cryptocurrencies, including bitcoin and Ethereum.
Zebpay
Zebpay, an Indian exchange, assists traders in purchasing and holding Bitcoin. It also allows you to trade cryptocurrencies like Ripple, Ethereum, Tether, and Litecoin. Zebpay is a straightforward crypto trading platform with an integrated best online crypto wallet in the Zebpay mobile app. This allows long-term investors to transfer their crypto holdings from the exchange to the wallet, where they have more control. It is used by traders who have just started investing in the crypto market and allows them to easily explore the trading features. It is also a fantastic trading experience. 
Binance India
Binance, one of India's most popular cryptocurrency exchanges, provides a robust option as well as cryptocurrency exchange marketing solutions for numerous users to trade over 350 altcoins, including Bitcoin, Litecoin, Ethereum, Bitcoin Gold, Cardano, and others.
The best feature of this platform is that investors earn interest on their total holdings. Furthermore, like WazirX, Binance India allows users to trade peer-to-peer, execute advanced trading methods such as futures contracts, participate in margin trading, and so on.
Binance India allows users to store crypto coins for low fees and obtain loans against their crypto assets.
CoinDCX
CoinDCX has established itself as one of the most versatile cryptocurrency trading applications in India. Its security feature is definitely noteworthy. This is due to the fact that users must verify their identities in order to trade.
Crypto.com
Crypto.com has a global presence, with 90 countries, 10 million users, and 3000 employees. With the exchange, you can use crypto research and analysis, as well as educational materials, to learn to trade from the ground up or improve your skills as an expert.
It allows users to purchase over 250 cryptocurrencies with fiat using their Crypto.com Visa card and bank account. The Crypto.com card allows users to access, manage, and spend cryptocurrency at Visa ATMs and stores worldwide at any time.
Bitbns
Bitbns is one of the best cryptocurrency exchanges in India, with over 300 cryptocurrencies listed on the platform. It provides excellent services and enables customers to buy, exchange, and sell cryptocurrencies at the best possible prices through an easy-to-trade, intuitive, and simple user interface. Bitbns also provides a cryptocurrency app for India, which is compatible with iOS and Android devices. The exchange is currently used by over 4 million users, with a daily trade volume of $13 million.
Final Thoughts
The best and fastest cryptocurrency exchanges provide secure, user-friendly platforms with high trading volumes and allow customers to trade multiple cryptos and pay in multiple payment methods.
As a result, investing in any of the exchanges mentioned above is risk-free because they all provide strong security, charge a small transaction fee, and have a high level of credibility.
About Post Author