Biggest Trends & Forecasts That Will Shape the Future of Instagram Marketing
According to marketing analysts, Instagram, the dominating photo-video sharing social media network, will have more than 1.074 billion worldwide users in 2021. This startling number demonstrates the future of Instagram marketing within ten years. 
Using this platform, millions of firms, brands, entrepreneurs, business tycoons, and prominent celebrities are now making remarkable money.
This could be one of the reasons why Instagram is the type of digital marketing and is considered by many to be one of the most effective marketing and revenue-generating platforms.
Instagram has proven its usefulness since its inception by integrating, inventing, and discovering new ways to impact the public on a large scale. Instagram has exceeded the expectations of its global users in a good way, from random hashtags to filter photos to now longer reels. 
Other major trends and projections for 2021-2022 that will impact the future of Instagram marketing are discussed below. 
Top Instagram Trends Everyone Should Try Right Now
Do you want to know what the future of Instagram marketing looks like?
With the COVID-19 epidemic, a surge in social activity, and Instagram adding new features (hi, Reels! ), it would be an understatement to label "unprecedented" the watchword of 2020.
With so much change, predicting Instagram trends for 2021 can be difficult. 
We're presenting trends impacting the future of Instagram marketing, ranging from an emphasis on e-commerce tools to more short-form video:
Instagram Shopping Has Become A Thing Now
In the year 2020, Instagram took another step toward becoming a digital marketplace for companies and creators.
Instagram Shop introduced a more streamlined approach for users to discover shoppable goods, allowing them to 'Browse Shops,' see 'Editors' Picks,' and more.
This isn't the only e-commerce option in Instagram's arsenal.
Instagram has launched e-commerce features such as:
Posts that can be purchased

Stickers for Stories

Checkout Creators Instagram Shopping

Shopping in Real-Time
Why is there a greater emphasis on e-commerce tools now that many of these features have expanded worldwide in recent months?
Adam Mosseri of Instagram just launched Shoppable Instagram Reels. The app is evolving into a full-fledged e-commerce platform enabling businesses and content producers to monitor their work.
More features are expected to be added in 2021, turning Instagram into a one-stop shop for everything.
 Instagram Live Streams Are Growing in Popularity
Live feature on Instagram helps you connect with your followers in real-time and communicate with your friends. 
Going live requires few steps from the Instagram stories camera, and after you're through broadcasting, your video will disappear as soon as the stream ends, which may inspire more Instagrammers to join and feel more comfortable posting live material. 
On the other hand, the knowledge that the video will no longer be visible once the live finishes generate a sense of urgency for viewers to avoid missing out.
Using Caption Stickers to Transform Words into Text
Authenticity in Instagram photos and captions has become a trend that will shape the future of Instagram marketing in the next years.
We saw how influencers used this platform to share their personal experiences, incidents and talk freely about mental health, loneliness, and low self-esteem. 
Not only influencers hopped into this trend, but brands too! 
Being open and honest about the difficulties of running a business (particularly during a worldwide epidemic) might help you develop a stronger, more supportive community and increase leads to your website.
In 2020, we saw rising trends talking about mental health, body positivity, entrepreneurship, and other topics and we anticipate even more "open book" material in 2021.
Reels Are Becoming More Advanced
TikTok's bizarre, unexpected, and innovative videos captivated the globe's attention by storm in 2020. It was the ideal way to pass the time during quarantine and lockdowns, and it became immensely popular with a younger demographic: Gen Z.
They are, however, not the only ones that enjoy TikTok! Instagram took notice as millennials and older generations flocked to the app. What was its reaction? Instagram Reels are video clips that are shared on Instagram.
The Instagram reel is a new tool that allows users to make short video clips. Instagram Stories has nearly 500 million daily users. Brands may use reels to produce instructional material while also creatively showcasing their products or services.
The Emergence Growth Of Humurous Content, like Memes
Instagram carousel posts and memes are not going away in 2021.
Because they are easily shared, they are the ideal Instagram growth hack. With likes on the decline, we believe that shareable and saveable content will be even more crucial in 2021.
How Pinterest Marketing Can Help You Grow Your Business?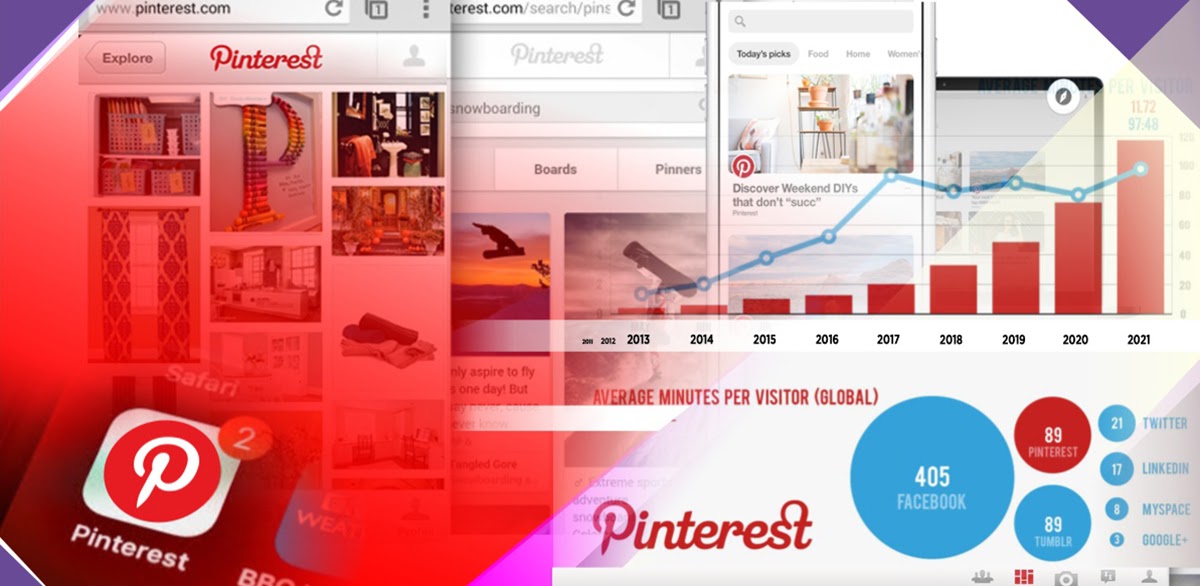 Pinterest is a digital planning platform that allows individuals to find, share, and organize creative ideas from all around the internet. It is now accessible on mobile and desktop platforms such as iOS and Android.
For entrepreneurs wanting to market their company, Pinterest is the go-to social media site. Pinterest is a social media platform centered on the sharing of pictures. Users, known as 'pinners,' may organize, share, and search for photos and videos from the Internet.
As a result, it is one of the most used search engines for visual material.
Pins are images and videos that users post (together with their links, hashtags, and descriptions). Pinners may neatly organize their pins into virtual bulletin boards, commonly known as pinboards.
Users may personalize, create unique board names, and style their boards, which other users can then follow. You can also choose to make your boards secret or public.
Pinterest has 320 million monthly active users as of today. Businesses may utilize the site to generate targeted traffic back to their website via the use of relevant graphics. If you own an e-commerce company, selling on Pinterest can help you take your business to the next level.
Pinterest users are accustomed to discovering fresh pins with intriguing goods on them. And they're not new to purchasing anything that piques their attention, whether through active search or their feed.
As a result, Pinterest marketing has an advantage because it has the potential to drive more purchases.
What Is The Future Of Instagram vs. Pinterest Marketing?
Pinterest and Instagram are two different platforms, particularly in terms of how they may be utilized for marketing.
User-generated Vs. User-curated Content
Instagram is all about unique innovation and personal expression. The images are nearly completely original and user-generated. It is all about sharing your life and the world with others. 
Pinterest, on the other hand, contains very little original photography or artwork and is more concerned with sharing things you've discovered in the world and on the internet with others. 
So, for a beauty company using social media, Pinterest is fantastic for allowing consumers to share your product photos and links to product pages with their friends, but Instagram is great for collecting genuine user-generated photographs of individuals wearing the product.
Both allow followers to express their enthusiasm for a company, but Instagram is more private and personal, whereas Pinterest is more recommendation-oriented more like a customer review or endorsement.
Evergreen vs. Real-time
While Instagram promotes in-the-moment sharing, Pinterest content has a considerably longer shelf life. Because of the timeline-based presentation and the continual flow of new content pushing old content downstream, photographs uploaded on Instagram are trendy today and ancient history tomorrow. 
Pinterest, on the other hand, deviates from the chronological, timeline idiom prevalent in other social platforms. Pin posted to Pinterest Board Organizes the Pinboard for users. And can continue to get visuals in the future by allowing related items to be grouped together, or to put your favorite things on top.
Direct Click-through Vs. Brand Mentions
Pinterest offers a unique benefit for marketers since it gives connections to the source material. 
So, while Instagram posts of a product or brand in action are frequently tagged with the brand name, increasing brand visibility, Pinterest pins can actually generate direct traffic to product pages, which can be tracked via web analytics to actually measure the impact of Pinterest links on web visitors, and even revenue in the case of e-commerce sites.
Conclusion
Because Pinterest marketing is both aesthetically and search-driven, creativity and keyword tactics should be prioritized equally. Post product teasers to entice consumers to purchase your items or services without being too aggressive. Instagram marketing can be used to provide behind-the-scenes images or videos that help you establish relationships with consumers.
About Post Author