Why Brands are Favoring Pinterest Over Other Social Media Apps?
Since the introduction of Pinterest in the year 2010, It was treated like any other ordinary social media channel, filled with glaring images from foods, clothing, recipes, home ideas to even traveling. However, with the advancements in technology, the Successful Digital Marketing Strategy has dramatically changed from a normal social media app to the biggest marketing channel for new and existing influential brands.
In the last 10 years, Pinterest has evolved dramatically in the internet world by bringing contemporary tools and upgraded features like story pins in beta, a new creator profile, updated analytics, and more. No matter whether you deal with fashion, beauty, travel, or trade, Pinterest aims to offer you a multitude of benefits along with exciting features to kickstart your business's journey in an unprecedented way. In case, you're looking forward to enhancing the growth of your organization, you need to build a solid as well as successful digital marketing strategy to stand out from the crowd.
With the presence of other top-notch social media networking sites like Facebook, Twitter, Whatsapp, etc., Pinterest is considered as more than just a social media apps that can effortlessly outshine by pushing your brand with ease.
What's the Fuss Behind the Humongous Popularity of This App: Pinterest?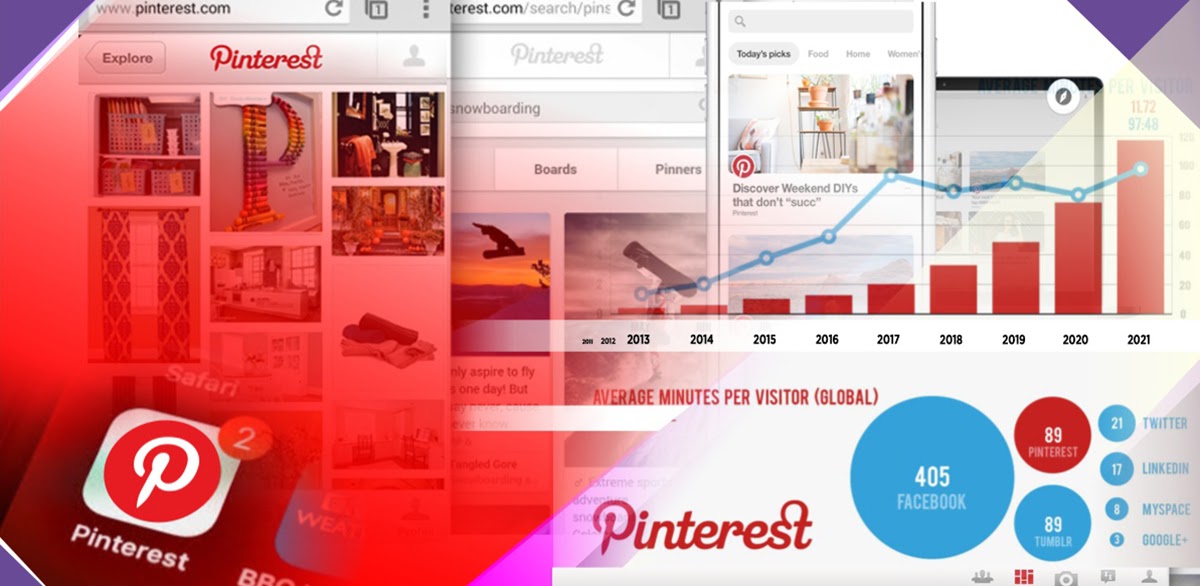 In the year 2020, the number of active internet users has surpassed over 459 million in Pinterest alone. This gives a plethora of opportunities to the upcoming brands to overtake millennial users across the world, widen their social media presence rapidly, and drive organic traffic to their website by targeting the relevant audience.
In this age of digitalization, Pinterest has progressively conquered the large segment of mobile competently. No wonder that in this ultra-modern world, Pinterest has adapted to mobile users quickly by offering them cool features 24/7.
Pinterest is the only social media application that grasps the attention of young and aspiring fans between the age of 12 to 33. Today's millennial generation prefers to use Pinterest more to flaunt their fashion style, gather information about the latest trend, share their unique talent with the world.
Unlike Facebook or Instagram, Pinterest has completely transformed by introducing IGTV while generating impressive results in just a short period. Using the newest shopping feature, the promising brands are engaging with potential customers by sharing engaging or specific content to create a never-ending impact on worldwide users.
Another latest feature of Pinterest is its business functionality. Due to covid-19 restrictions worldwide, prospective pinners can conveniently access their favorite products enriched with valuable information like product information, pricing, availability, etc. Based on the ongoing purchasing trends, the customers can pick the right products or services in the right way if found reasonable.
You can effortlessly get more pins using the right hashtags that act as a magic wand to promote your brand without saying a word. It is a form of soft advertising where the companies use innovative and unique hashtags so that pinners can find their products easily.
No matter whether your company is small or large, Pinterest is still the leading advertising channel that can help you fiercely thrive in the competitive market if utilized properly. Most smart business giants are outsourcing digital marketing companies like Agio Support to create a strong marketing strategy for Pinterest.
How Can I Use Pinterest in My Successful Digital Marketing Strategy?
In the year 2021, you must focus on building a strong Successful Digital Marketing Strategy to reach your goals, promote your products and enhance online visibility. Using Pinterest as your marketing strategy can help you improve your brand awareness as well as generate good conversions with ease. 
Let's get started:
Target relevant keywords in board titles to increase search capabilities.
Keep your description simple, crisp, and engrossing to spread your ideas in the right manner.
Maximize your reach with the help of vertical images.
Add relevant links to the description to reach the masses.
Create an effective embed code to get more repins.
Pin the large images to entice worldwide customers.
Curate relevant, engaging, and informative content to build authority.
Reach wider groups every day via collaborating boards.
Use "Pinterest for Business" to track and analyze performance.
Pinterest could become your powerful marketing tool that can help your business succeed and boosting digital marketing efforts if utilized properly. 
Top 10 Aspiring Brands on Pinterest with Staggering Marketing Strategies
The most influential brands in the world have already built a long-lasting relationship with millions of followers, engaging with them through striking images, and even building a community using the right marketing campaign. If you're looking to revamp the look of your Pinterest business account, take inspiration from these influential brands. And these are:
Fenty Beauty
Etsy
Airbnb
Bustle
Glossier
Whole Foods Market
Free People
HonestlyWTF
Mejuri
Kosas
Pinterest is undoubtedly the fastest-growing networking channel that can develop a meaningful fan base for you by positively affecting the engagement rate.
Expand Your Business Horizon Professionally With Agio Support
If you wish to expand your business in the complex digital ecosystem, then partner with an acclaimed social media marketing company like Agio Support.
Agio is a prestigious digital marketing company that offers comprehensive digital marketing services like content creation, brand awareness, community management, post promotion, analyzing performance, and much more at a reasonable price.
Thus, meet Agio's social media expert today to get a cost-effective social media marketing service that perfectly works for you and crucial to your business
About Post Author